Essential Thai
August 11, 2021at 10:00 am

-

1:00 pm

$95.00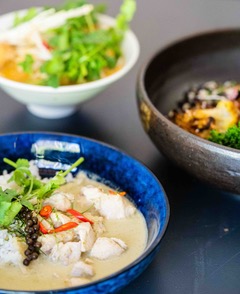 Learn how to cook Thai food from purchasing, storage of ingredients to basic preparations. Thai food is all about
the balance of flavors – hot, sour, sweet, salty and
bitter and in this class you will learn to use just
the right amount of each ingredient to perfect that balance.
Tom Yum Ka Gai, Chicken and coconut milk soup
Larb Nua,  Spicy Ground Beef Northern Style
Classic Thai peanut sauce
Som Tum, Spicy Papaya Thai salad
Nam Jim sauce.